PreBS 20+ Cherry
A brand new PreBS 20+ build with cherrywood cab has just been completed! A Deluxe Reverb type build with premium Mercury Magnetics transformers for 6V6 or 6L6 power tubes. Output from 20W -35W! Handwired with the highest quality components throughout, user adjustable bias, and an Eminence Cannabis Rex 12″ speaker is the perfect compliment to the enhanced circuitry. Pedal friendly and gig ready! Vintage tone and more!
$1999 Summer sale! $1799
PreBS 15+ w/15″ Speaker                                  Navy w/Carolina Blue Stripe
Been wanting to try this for some time now. A PreBS 15+ with 15″ Weber speaker. Turned out better than I imagined! The oversized/specialized Mercury Magnetics transformers combined with the larger cabinet and 15″ speaker is a perfect combination! More volume, more headroom, and more harmonic overtones when pushed, especially with the mid-boost engaged and/or the feedback knob cranked. It's just hard to imagine a gigging/recording senario where this amp wouldn't excell. Use 6V6, 6L6, or 5881 power tubes and a 5AR4/GZ34 or 5U4G rectifier to dial in just the right amount of output and sag for your tonal preferences. Right at home with blues, R&B, country, surf, jazz, rock, and ? Portable, powerful, perfect, pedal friendly tone!
$1795 Summer Sale! Now only $1615
PreBS T5 Solid Cherry w/10″ speaker
Another PreBS T5 collaboration with a custom cherrywood cab built by my dad. This one has a NOS 5V4G rectifier and a Mercury Magnetics output transformer(8 ohm for more speaker choices) for 6L6 or EL34 power tube, and a 10″ Eminence hemp cone, Lil Buddy speaker which compliments both clean and overdriven tones. As always, it features a 3-position gain switch for versatility and a super soft high quality handle from El Dorado. The undisputed king of Champs!
$950 Summer Sale! Now Only $855
PreBS T5 Alligator or Black w/Red Stripe
A 5F1 tweed champ build with all the Sweet stuff! Alligator w/Weber 8″, Black/Red has 6″ Weber speaker, point to point wiring, NOS 5V4 rectifier, and 3-way gain switch gives vintage tones and then some!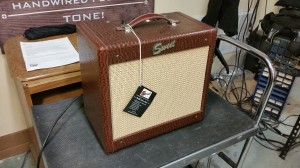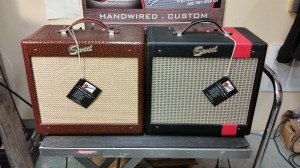 $799 Summer sale!   $719 each
Don't see what you're looking for? Contact me for a custom build quote.
sweetamplification@gmail.com