Twenty Something  -$1750 NOW ONLY $1600
An all new 12W-20W vintage voiced 6V6 powered 12″ combo with unique retro mid century looks! A labor of love for the love of tone as art! Purist heaven and a perfect low wattage pedal platform! See home page post for more details.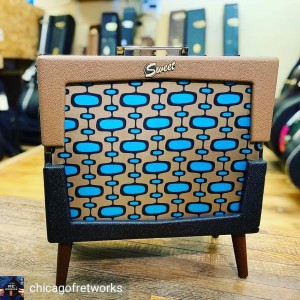 ——————————————————————————————-
PreBS 15+ Natural Cherry Cab  –$1895 NOW ONLY $1700
My take on the Princeton Reverb but with a backbone for playing with a band. 12″ Mojotone BV-30H speaker, Mercury Magnetics transformers, uses 6V6 or 6L6 power tubes for output from 15W-32W with user adjustable bias on the rear panel, all housed in a gorgeous solid cherry cab with hand-rubbed finish. Heirloom quality and tone for days!
———————————————————————————————————
New model  PreBS 20+ head and separate cab in a PreBS 15  footprint!
This is a one-off prototype that will definitely become a standard model  so I used a 15+ faceplate for this one. BFF(black face Fender) 15,20, 40, etc  may become the official model name. This may become a "no-caster" collectors piece ; )
Single channel enhanced blackface tone with all of the Sweet extras and attention to detail. Push-pull bright and mid-boost, negative feedback control, user adjustable bias control and test points, bias modulated vibrato, full sized spring reverb, long-tailed pair phase inverter(like deluxe reverb and larger Fender models-smoother when pushed), Mercury Magnetics output transformer, and cherry wood cabinets with hand rubbed oil finish and an incredible sounding 12″ Eminence GA-SC64 speaker. Output is from 20W-38W depending on tubes. Uses 6V6 0r 6L6 power tubes and 5U4G or GZ34 rectifier to dial in the power and feel for your gig or recording preference.
Can also be ordered with any color Tolex covered pine cabinet.
$1950 Head  $500 Cab   $2350 for the pair  NOW ONLY $2100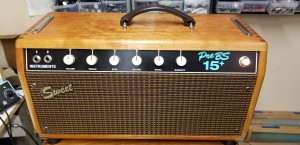 —————————————————————————————————
PreBS 20+ 1×12 Combo -$1999 NOW ONLY $1799
A brand new PreBS 20+ build with cherrywood cab has just been completed! A Deluxe Reverb type build with premium Mercury Magnetics transformers for 6V6 or 6L6 power tubes. Output from 20W -35W! Handwired with the highest quality components throughout, user adjustable bias, and an Eminence Cannabis Rex 12″ speaker is the perfect compliment to the enhanced circuitry. Pedal friendly and gig ready! Vintage tone and more!
*Also available with 10″ + 12″ speakers +$125
———————————————————————————————————
*Every handmade hardwood cab is unique so if you like this one, don't wait. There wont be another exactly like it!
Don't see what you're looking for? Contact me for a custom build quote. Any color Tolex covered versions of all models are also available.
sweetamplification@gmail.com
Chicago Fret Works 773-698-6246