Twenty Something  -$1750
An all new 12W-20W vintage voiced 6V6 powered 12″ combo with unique retro mid century looks! A labor of love for the love of tone as art! Purist heaven and a perfect low wattage pedal platform! See home page post for more details.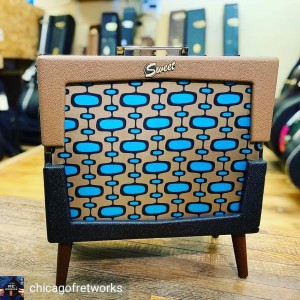 ——————————————————————————————————–
PreBS 20+ 1×12 Combo -$1999
A brand new PreBS 20+ build with cherrywood cab has just been completed! A Deluxe Reverb type build with oversized premium Mercury Magnetics transformers for 6V6 or 6L6 power tubes. Output from 20W -35W! Handwired with the highest quality components throughout, user adjustable bias, and an Eminence Cannabis Rex 12″ speaker is the perfect compliment to the enhanced circuitry. Pedal friendly and gig ready! Vintage tone and more!
*Also available with 10″ + 12″ speakers or 2×10 +$125
———————————————————————————————————
*Every handmade hardwood cab is unique so if you like this one, don't wait. There wont be another exactly like it!
Don't see what you're looking for? Contact me for a custom build quote. Any color Tolex covered versions of all models are also available.
sweetamplification@gmail.com
Chicago Fret Works 773-698-6246