First of its kind! The BFF, A PreBS20+ in a PreBS15+ sized chassis(BFF faceplate coming soon). All of the best hand-wired features of the Princeton Reverb, Deluxe Reverb, and Vibrolux Reverb in one compact head with separate cabinet for easy transport and versatility.
Single channel enhanced blackface tone with all of the Sweet extras and attention to detail. Push-pull bright and mid-boost, negative feedback control, user adjustable bias control and test points, bias modulated vibrato, full sized spring reverb, long-tailed pair phase inverter(like deluxe reverb and larger Fender models), Mercury Magnetics output transformer, and cherry wood cabinets with hand rubbed oil finish and 12″ Eminence GA-SC64 speaker. Output is from 20W-38W depending on tubes. Uses 6V6 0r 6L6 power tubes and 5U4G or GZ34 rectifier to dial in the power and feel for your gig or recording preference.
Can also be ordered with any color Tolex covered pine cabinet.
$1950 Head   $500 Cab     $2350 for the pair(-200 for pine/Tolex)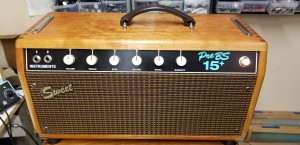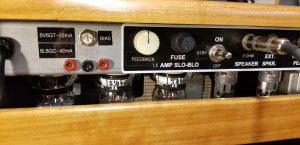 SOLD!